SPS Connect 2020
24. - 26.11.2020
---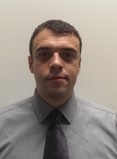 Vladan Mitov started his applications career with Senis AG and Ametes AG in 2007, where he worked 5 years as an Applications and Research and Development engineer in charge of Low Noise Hall Effect devices and Current sensors based on Hall Effect devices.
In 2012, he joined Avago Technologies (now Broadcom Inc) as an Application Engineer responsible for Industrial products. More recently Vladan has moved into a sales role responsible for key industrial accounts. Vladan has been instrumental in setting many new designs and initiatives that helped grow the industrial products business.
Vladan Mitov holds a Master´s degree (Dip.Ing) in Electrical and Electronic Engineering from the University of Nis – Electronics Faculty in Serbia.
Subject to changes without notice