SPS Connect 2020
24. - 26.11.2020
---
COO and President der Business Area Industry Management and Automation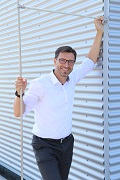 Ulrich Leidecker studied control and automation engineering at the University of Paderborn. He started his professional career as a sales engineer in 1994 at Phoenix Contact GmbH & Co. KG and held leading positions in sales and international key account management for many years. Since 2010 Ulrich Leidecker has been managing director of Phoenix Contact Deutschland GmbH.
Ulrich Leidecker has been a member of the ZVEI board since September 2011 and a delegate of the NRW state office since May 1, 2013.
In January 2014, Ulrich Leidecker - along with Manfred Tillmann from s.e.t. electronic AG - was elected Deputy Chairman of the ZVEI Landesstelle NRW.
Since February 2016 President of the Industry Management and Automation business area at Phoenix Contact Electronics GmbH.
Since 01.07.2016 - alongside Christoph Leifer - Managing Director of Phoenix Contact Electronics GmbH in Bad Pyrmont.
Since July 2018 Leidecker has been Chairman of the ZVEI State Office NRW.
Since August 2020 COO of Phoenix Contact GmbH & Co. KG
Effects of the Corona pandemic and digital transformation
Main Stage
GER
Panel discussion
Subject to changes without notice