SPS Connect 2020
24. - 26.11.2020
---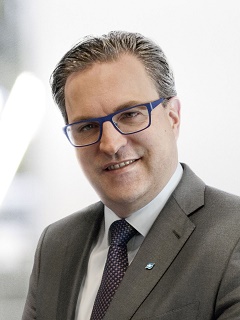 Business Administration and Engineering (TU), born in 1972
CEO of SCHUNK GmbH & Co. KG, Lauffen/Neckar
After studying at the Technical Universities of Kaiserslautern and Dresden, Henrik Schunk joined SCHUNK GmbH & Co. KG as Managing Partner in 2002. Until his appointment as CEO in 2010, he held several responsible positions in the family-owned company. He was also President of SCHUNK USA until 2005.
Today he is responsible for Sales & Marketing of the Business Units as well as for Brand Strategy and Innovation & Technology Strategy of the SCHUNK group.
In addition, Henrik Schunk has been an active contributor to the German Association of the Mechanical Engineering Industry (VDMA) as well
as to European associations for many years. Since 2009 he has been a board member of VDMA Integrated Assembly Solutions, since 2013 also a member of the central board of the VDMA. He has been Vice President of
the VDMA since June 2018 and, after a break, he has again become a member of the board of VDMA Robotik + Automation since 2019. On the European level Henrik Schunk was active with EUnited Robotics; from 2010 to 2016 as Chairman and from 2017 to 2019 as Vice Chairman.
Sensors and industrial communication
Main Stage
GER
Panel discussion
Subject to changes without notice